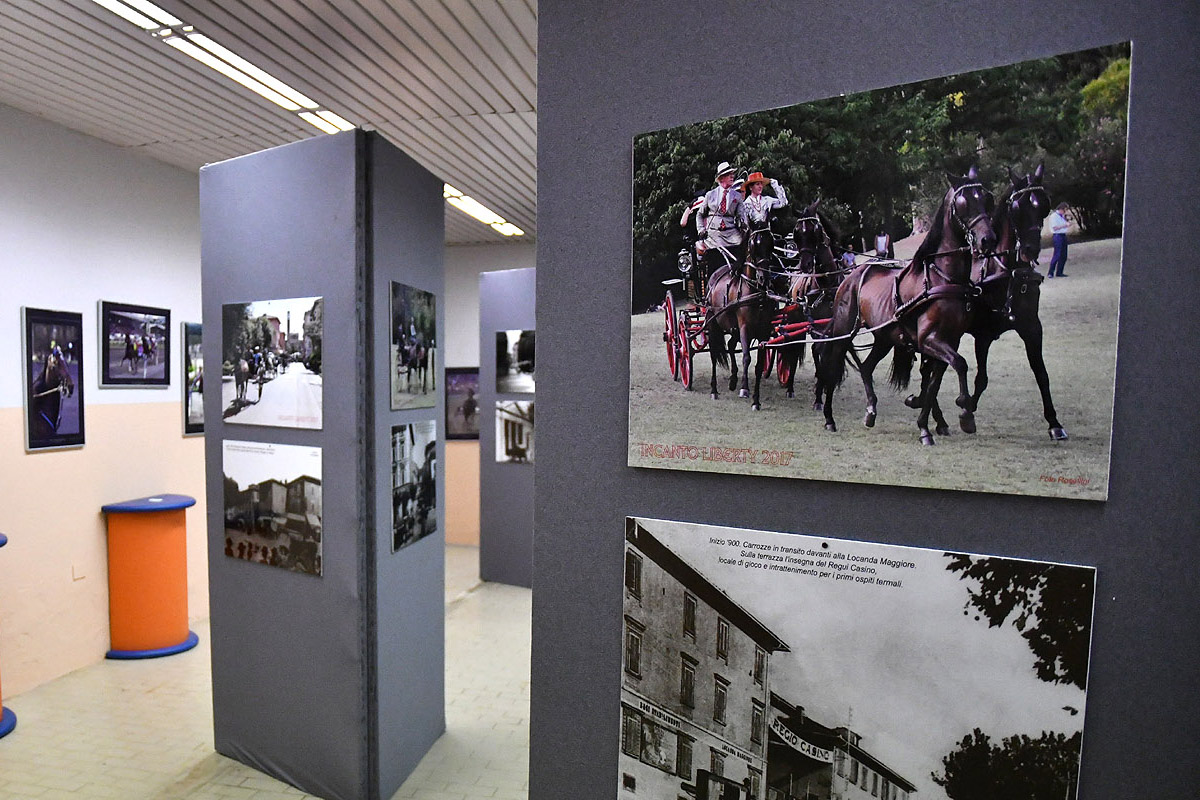 Varenne museum is located on the left-hand side of the main entrance of SNAI Sesana racecourse. With more than 100 sq.m. indoor and 40 sq.m. outdoor, the museum has a permanent exhibition of the latest decades at Sesana racecourse. Best pictures of Varenne racing at Sesana and best pictures of Gran Prix of Montecatini may be admired. It is also a tribute to the most famous Tuscan horse riders, trainers and owners, who contributed to the success of the racecourse.
Several totems highlight other important events of the race season, including the "Nello Bellei" Gran Prix. Some relics from the past may be admired too, including photo finish instruments, pricking machines and an old-fashion carriage, still used to carry winning riders, trainers and owners on key race days.
Varenne is the most famous trotter in the world. Born in Italy in Zenzalino a Copparo (Ferrara province) in 1995, he is the best trotter of all time. In his entire carrier, he won Euro 6,035,665. His name comes from the Parisian street where the Italian embassy is located. His skills impressed the horse-racing world. Born from Waikiki Beach and Ialmaz, since 2001 he was ridden by Gianpaolo Minucci and become the best trotter in history.
He started racing at 3 year-old, in 1998, when he succeeded for the first time at Trot Derby, the most important race event for a native trotter, against Viking Kronos, famous trotter at that time. In the next season, he won almost all the 4-year-old native Gran Prixes and the international Gran Prix of Nations held in Milan San Siro racecourse. Here, he succeeded against Moni Maker, world champion at that time. With fourteen victories out of fourteen races, Varenne was unbeaten that season.
In 2000s he became a legend, starting to compete against the strongest trotters in the world. At the end of 2000 he won thirteen out of eighteen races. In 2001, lead by Minucci, Varenne amazed everyone at the European Grand Slam (Amerique, Lotteria, Elitloppet) and won the Breeders Crown in the U.S.A. In 2002 he became the richest and fastest trotter of all time and scored the world record. He is awarded "horse of the year" in three different nations: Italy (2000, 2001, 2002), France (2001, 2002) and U.S.A. (2001). But he is also the only trotter to win the most important races on the same year (2001). His picture on the weekly magazine Sportweek amplified his fame and contributed to build the legend.
Today, Varenne takes care of his heritage. After his retirement, on 28 September 2002, he is now a stallion. He is hosted at Il Grifone horse breeding (Turin), where several events take place annually. His first-born, Icaro del Ronco, saw his value being decupled when sold at Euro 150,000 (although he never competed owing to an injury). The first daughter to compete was Ira del Rio, a female horse (third placement on her first race). Loggia was instead his first son to win.
Lana del Rio and Lisa America, both her daughters, won more than one million Euro each on Italian and international tracks. Other sons: Miele d'Alfa, Mustang Grif, Incendio, Idole di Poggio, Impeto Grif, Lord Capar, Lancillotto Car, Illusion Dany, Lily Kronos, Lou Kronos, Laurel America,Like di Poggio, Nemo Grif, Image of Sf, Langdon Grif, Leonida Grif, Legend Kronos, Lie Detector, Isadora dei Fiori, Nadir Kronos, Olona Ok, Pascià Lest. And more to come…
Most important victories:
– Rome – Trop Italian Derby (1998)
– Milan – Gran Prix of Nations (1999)
– Milan – ENCAT Prize (2001 e 2002)
– Paris – Prix d'Amerique (2001 and 2002)
– Napoli – Gran Prix Agnano Lottery (2000, 2001 and 2002)
– Stockholm – Elitloppet (2001 e 2002)
– Meadowlands – Breeders Crown (2001)